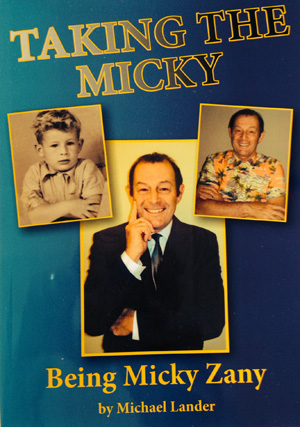 Price £10.00 + £2.50 P&P

Click on the PayPal Buy Now
button above or Contact mickyzanycomic@gmail.com
to purchase your copy


View Book Review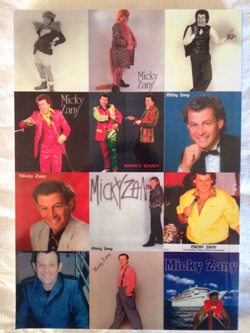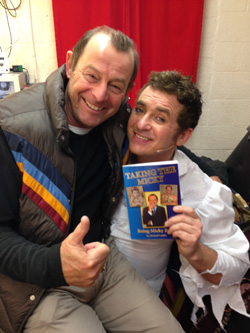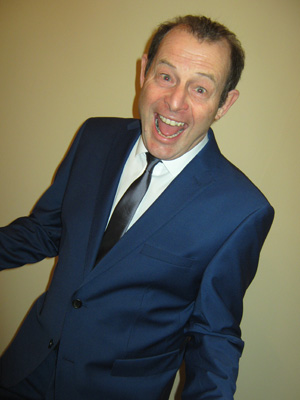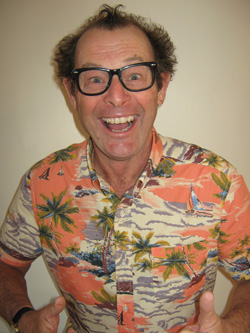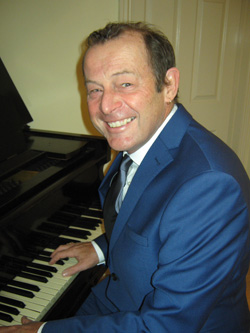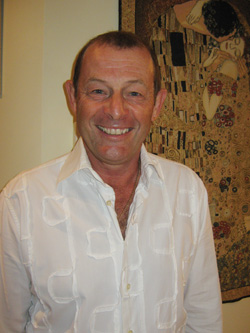 TAKING THE MICKY
Being Micky Zany by Michael Lander
In May 2005 Micky celebrated twenty-five years in show business and thought it would be a good idea to put pen to paper and tell his story so far. A tale about a quiet, unassuming, shy Suffolk lad who made a career out of making people laugh. However, it seems to have taken forever to write this forthcoming best seller as it is now early 2015!

He sees it as a sort of legacy for his children and grandchildren to read to get some sort of insight into his life, his thinking, and his time treading the boards. Mind you, a lot has happened over this last ten years or more, so taking the time to complete this masterpiece has been well worth the wait!

His early thoughts were how many people would be interested in reading about his life and his thoughts on comedy. A lack of confidence was already beginning to show. The book takes in his lifetime experiences to date, unlike some, who have written their memoirs when barely out of nappies.

He has performed for over thirty-five years to hundreds and thousands of people, millions in some cases when taking in his TV appearances. He is optimistic that many people will enjoy reading about his life, the first half a regular guy with no reference to bowel movements, and the second half a successful 'almost famous' comedy entertainer.
Micky has a saying; 'those that matter……matter'.
This might be a night out for you…..it's a career for me.
He has had an eventful life with lots of ups and downs, and happily more ups than downs, but he never, ever thought it possible that he could become a professional comedian. In 1978 he realised this could happen after the seed was sown two years earlier. Even today after all these years as a funny guy there are some who are still very sceptical and do not think of comedy as a profession. A comedian, a proper job…..don't make me laugh!
"When I told people I was going to be a comedian, they all laughed. Well, they're not laughing now!" (Thank you Mr Monkhouse)
There have been highs and lows along the way, but he has never looked back and wished he was doing something else. Micky has no regrets about that.

Most people will tell you that a comic has the hardest job in show business. If it is not the hardest, it can certainly be the loneliest.
He has always been a shy person; some might find that hard to believe but he now realises that comedy is what he was born to do. His vocation in life, his passion.

Some people might ask, is it an alter ego? He says it must be. Shyness can be a form of arrogance, but a nice arrogance and with comedy there can also be a dark side that sometimes needs to be addressed.
I might be schizophrenic, I don't know. I'm in two minds!
What better way to overcome this shyness than to stand in front of an audience and make them cry with laughter. There must be something deep rooted inside that makes him want to do this – masochism comes to mind!

Being funny, trying to compete with the very best and trying to reach the top of this profession is a serious business. There has been and always will be lots of competition which is essential in any walk of life. Being naturally funny certainly helps and Micky couldn't have pursued a career in comedy if he didn't feel funny!
Micky found out early on that to succeed in the comedy jungle you must have your own unique flair and be able to revamp, re-cycle and freshen up old material and ideas, or better still, write your own material! Observation and true to life situations are the key in this funny world we live in!

Comedy has changed so much over the years especially on TV. It is now increasingly important to put together your own style and original content to achieve a very high standard of performance and compete with the best.

In the eighties there were working men's clubs, social clubs, cabaret and night clubs, holiday camps, theatres, summer seasons, stag and hen nights, pubs and so forth and they were rife with entertainment. As we moved into the nineties and beyond, there has been a decline in these venues. Hopefully today, we may begin to see a return to more variety and live entertainment.
Nowadays, the more successful and busier comedians will be working the likes of the private functions, corporate events, cruising and the Comedy Store circuit in order to achieve quality of work. Success on TV today will undoubtedly come from those who have plied their trade in the comedy clubs and bars around the country which in contrast has now become the mainstream. Comedy is more prevalent today than ever, it is the new Rock 'n' Roll with the Edinburgh Fringe Festival being a major event in the annual comedy calendar.

With many comedy clubs scattered around the UK now and the original new programmes on TV, comedy is well and truly more popular than ever with new generations. Micky finds almost all comedians funny with their different styles and material, including those from across the pond in the USA. He still loves what he does even more than ever and it is fair to say that he would want to be a comic if he had his time over again.
I've just joined the Reincarnation Society. It cost me five hundred pounds, you only live once don't ya!
It is not the air he breathes, it is not an addiction or obsession, it is a drug. Adrenalin is a wonderful thing!

It is not a job, far from it. Micky sees it as a passion, an art form and a craft. To go on to a stage and have an audience in the palm of your hand and watch them laughing, sometimes uncontrollably, it is a truly wonderful feeling. It can be very nerve racking and even today he still gets incredibly nervous, the bigger the venue the worse it is, or better, whichever way you look at it. It is good to get these nerves but once he gets on stage Micky feels at home. Some people will say it's a gift and he has kept the receipt!
Micky feels blessed that he has been born with this gift.
Losing his parents was very traumatic for Micky, especially his beloved mum. It took them a while to adjust to his new career change (from civil engineer to comedian) but they loved what he did and were so proud of 'their boy'.

Micky has now been married and divorced three times but he has no regrets, well not many! He still hopes to find love, romance, his soul mate and everlasting happiness with that special one to grow old with. Since completing this 'work of art' his personal life has made a significant change for the better and fate has dealt him a winning hand. Read on to find out more........
This book tells us how a shy boy from the back waters of Suffolk had not the slightest inkling of being in show business but fell into it by pure chance, or it was just meant to be, as he likes to think. There is no history of anyone in his family treading the boards but deep down early on there must have been this burning desire to get on stage and make a fool of himself. As already mentioned, he has performed to millions, but he has not yet sustained enough high profile to be a household name in the public eye. Whether he has not been in the right place at the right time or been seen by the right people……..who knows?

Micky would love to taste the sweet smell of success that TV brings today and therefore gain wider acknowledgment and respect.
It must be wonderful to get a standing ovation when you walk onto a stage and it is a great feeling to get one when you walk off as well!
He is a somewhat nervous, insecure country boy, lacking in self-confidence and striving constantly to improve his technique and craft. Micky is constantly trying to find new ideas and material and, more importantly, to be that little bit different from all the others. As a comedian he feels that you have to be clever, do your homework and most importantly be yourself.

This book is about the life of a comedian who came from a humble, but very happy, background and an insight into what it has been like to make people laugh professionally for all these years. It is an honest and nostalgic look into the career of a well-respected funny boy, a working comic who has yet to get that big break.
Micky wants this hard-hitting and gritty book to be made into a film! You can you tell our boy's a bit of a dreamer – but a funny one!
He still dreams on, not necessarily to find any hint of fame, but to keep the passion and maintain the enthusiasm and inventiveness to write his own material and enjoy doing what he does best.
I'm not even a household name in my own home!
Micky will dream on. If we don't have dreams we have nothing. When you are on stage you become exactly who you are meant to be. Your true potential is only limited by your own imagination and determination. Therefore there is no limit to what you can achieve!